It's training time! The money soup is an overview of various accounting concepts and procedures to help improve your understanding of how to follow the money.


Understand the Money Soup
You care about accounting because it is a necessary tool for measuring business and financial results. If your accounting is not up to par, your business is not up to par. Accounting tools help you learn where the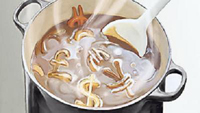 money went, whether you made a profit and what you own or owe at any point in time.

Non-accountants probably do not understand accounting techniques any more than a non math major knows calculus. Accounting is about the measurement of money and business transactions. Why do we need it and How can we use it? In this document, the questions will be answered.

How is your Checkbook Memory? Do you know that an accounting system tells you "What Happened" and "What is Left?" How do you find out "What is your financial status?" Have you heard about double entry accounting procedures? Do you know what it is all about? Even more important, do you know "Why Double Entry Accounting?" and what is "The Secret of Double Entry Accounting?"

If you run a business, do you know about the various "Types of Accounting Diaries"? Why is it important to know, for tax reporting purposes, whether to select Accrual or Cash Accounting?